The most used teams for Spiral Abyss 3.5 have been revealed recently. While many fans seemed unsatisfied with the addition of new enemies like Cryo Abyss Herald and Setekh Wenut, that can't stop them from trying to get full 9 stars in the final chamber.
More than 120 thousand players have joined and submitted their data for the survey surrounding which Genshin Impact rosters have the highest usage rate. Let's check out right below.
5. Tighnari, Zhongli, Yae Miko, Nahida
Quicken teams are quite easy to use yet can fully flaunt their effectiveness in Floor 12. The lineup is more popular in the second half (97%) as the units can altogether defeat Setekh Wenut with ease.
The only thing to take note of is you should be careful while using Zhongli as his shields may make the Shadowy Husks in the former chamber pretty annoying. Overall, this Spiral Abyss team only includes 5-star characters which might be a factor that some F2P players will not find amusing.
4. Hu Tao, Yelan, Zhongli, Xingqiu
Different from the Quicken team above, Hu Tao vape team is more used in the first half of Floor 12 (92%). This chamber half consists of several enemies that subdue to Pyro. Therefore, it is without a doubt why Hu Tao - one of the best DPS out there, is included in the team.
3. Raiden Shogun, Xingqiu, Xiangling, Bennett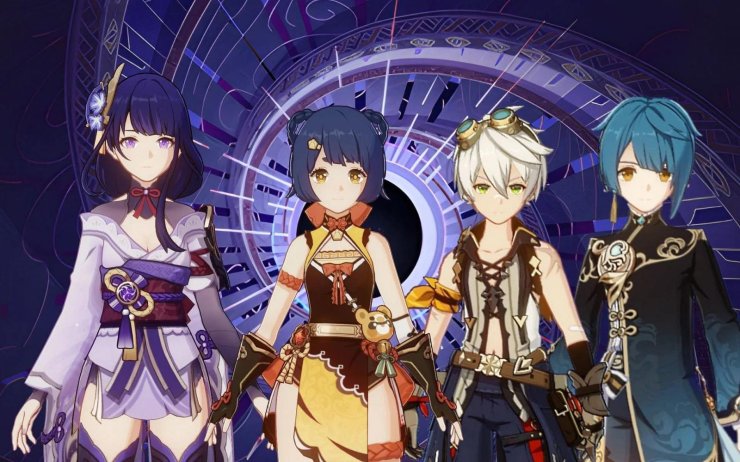 The Raiden National Team, aka the Rational Team, has always been at the top when it comes to the best teams for Spiral Abyss. And they continue to secure their spot in update 3.5 thanks to their great synergy and combined elemental reactions.
For those unknown, these 4 characters have a pick rate of 98% in the first half of Chamber 12. Also, the team only has one 5-star character, making them even more desirable as the lineup is very accessible.
2. Tartaglia, Kazuha, Xiangling, Bennett
Childe, or Tartaglia, is also among the strongest characters in Genshin Impact, be it lore-wise or game-wise. In this case, he is paired up with Kazuha, Bennett, and Xiangling, creating the famous International Team.
While the first half's pick rate is 79%, they are also used in the second half at the rate of 21%. They were listed in almost every ranking of best teams for Spiral Abyss floor 12.
1. Ayaka, Kazuha, Shenhe, Kokomi
Ayaka Freeze team has an overwhelming pick rate in the second half of Spiral Abyss Floor 12. The unit includes Kazuha, Kokomi, and the two characters (Ayaka and Shenhe) whose banners are active at the moment.
The new Black Serpent Knight or the Setekh Wenut all become useless against this team. And in case you have not known, they are also among the only few teams that had a 100% usage rate in Floor 12's second half.
>>> Related post: Best Teams & Characters To Pair With Mika In Genshin Impact